With the hubby still enjoying his sem break at graduate school, we now get to go home in Bacoor on Friday nights. Like last weekend, for instance. But instead of just the two us going home, we had two guests whom we fetched from Market, Market in Taguig City.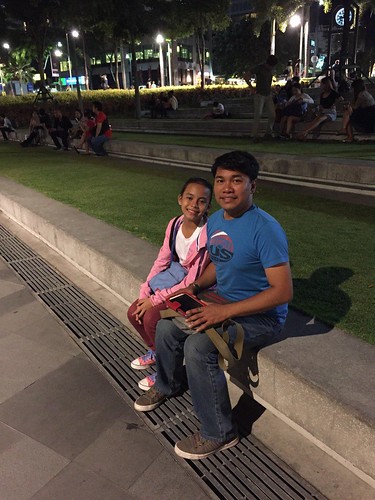 Our Bohol-based friend Jan2x (one of the family friends we saw during our short vacation in Bohol last month) and his girl student Damecess were here in Manila for the National Schools Press Conference 2015 which was held in that city last week. We found out that she placed 6th in the Photo Journalism – English category and so we decided to celebrate it by treating them to a late dinner at Midnight Mercato.
Coach Jan2x was in a happy mood as we chatted over dinner. We could easily tell that he was very proud of his student. He said that the fact that they reached the national level of this contest was already an achievement for him. And when she won, he got ecstatic and thanked God profusely. Somehow, I could relate. As a third year high school student in the province before, I got to join the same contest under the Feature Writing – Filipino category. I won at the division level and got to the regional level and it stopped right there. Haha. Of the three students from our school who made it to the regional level (yours truly included), one had made it to the national level which was then held in Tagum City. She didn't win there but the experience surely made the trip worth it for her.
Damecess, on the other hand, was very quiet. Shy pa kasi sya noong una pero eventually napatawa na rin namin ni Edwin. We would learn later that she's the eldest in a brood of three and lives in the same village as her coach. Kaya naman pala close na close sila, parang mag-Tito lang.
I think we got to Bacoor at past midnight already. We just changed our clothes and then went to bed. The next morning, we drove them to the airport. Their flight back to Bohol was scheduled at 1PM. The hubby and I drove back to Bacoor to spend the rest of the weekend at our love nest.
On Sunday morning, we heard mass at the Holy Trinity Parish in San Nicolas (just a 5-minute car ride from our village).
At home, the hubby and I bonded over food, movies, gadgets, and of course, household chores. He wanted to go malling but I remained firm in my decision to stay home. Iwas gastos na rin. Haha. To appease him, I just baked him a chocolate cake (one of his weaknesses!).

sulit na sulit talaga ang oven na 'to sa akin!
I also turned his favorite vegetable (read: broccoli) into a delicious veggie dish. It's the same recipe as this Stir-Fried Baguio Beans with Chinese Sausage except that this time, I added carrots and broccoli for more color and nutrients.
And the weekend has ended to give way to a beautiful week…
How was your weekend, friends? I hope you had a great one! 🙂